Travelling to Poland without barriers with Sky Free
Nachrichten
The adventure of Sofia, her daughter Andrea and her companion Leonardo has begun. The extraordinary story of a wheelchair-bound mother who has decided to make an incredible journey, the destination is Poland. It all started in September at the Motorhome's fair in Parma, when Sofia saw for the first time the only motorhome accessible for disabled people equipped with electric lift: the BLUCAMP SKY FREE.
The opportunity of starting the journey promoted by an Erasmus project, aboard the  SKY FREE vehicle, has allowed Sofia to communicate and provide real time report about the situation of campsites, motohomes equipped areas parking areas that are accessible by disabled people in Italy and abroad.
You can find all the information on the  Blurent .Facebook pages.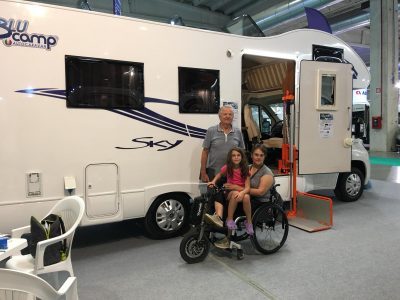 Motorhome's Fair in Parma