2019 Holidays and long week-ends- Rent a motorhome with Blurent!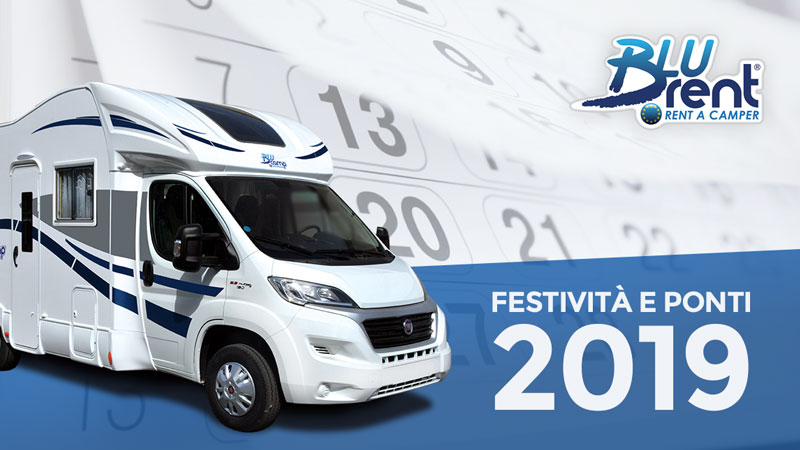 News
2018 has been a poor year in terms of long holidays since most of the holidays were on Sundays or during week-ends. Here is what the 2019 offers instead! 
Here below you can see the list of holidays for the new year and organize your motorhome holidays on time!!
Thanks to Blurent it is possible to rent the most suitable motorhome directly from a wide list of airports, train stations and turistic locations without any worries. Or it is possible to collect the motorhomes from the nearest Blurent rental centre!
Easter and Easter monday – Sunday 21 and Monday 22 of april 2019
Rent a motorhome with Blurent from the 19/04/2019 to the 23/04/2019 starting from €596,00
---
Italy's Liberation day – Thursday 25 of april 2019
Rent a motorhome with Blurent from the 24/04/2019 to the 29/04/2019 starting from €595,00
---
Labour day – Wednesday 1 of may 2019
Rent a motorhome with Blurent from the 27/04/2019 to the 01/05/2019 starting from €496,00
---
Italy's National day – Sunday 2 of june 2019
---
August holidays – Thursday 15 of august 2019
Rent a motorhome with Blurent from € 1490,00
(minimum rental period in high season 10 nights)
---
All saints – Friday 1 November 2019
Rent a motorhome with Blurent from the 31/10/2019 to the 04/11/2019 starting from €340,00
---
Immaculate conception – Sunday 8 of December 2019
---
Christmas and Boxing day – Wednesday 25 and Thursday 26 of December 2019
Rent a motorhome with Blurent from the 24/12/2019 to the 30/12/2019 starting from €594,00
---
New year's eve 2020 – Wednesday 1 of January 2020
Rent a motorhome with Blurent from the 27/12/2019 to the 02/01/2019 starting from €495,00
---
You can contact us as usual to have further information and quotations at 0172.648140