Italian trip with Sky Free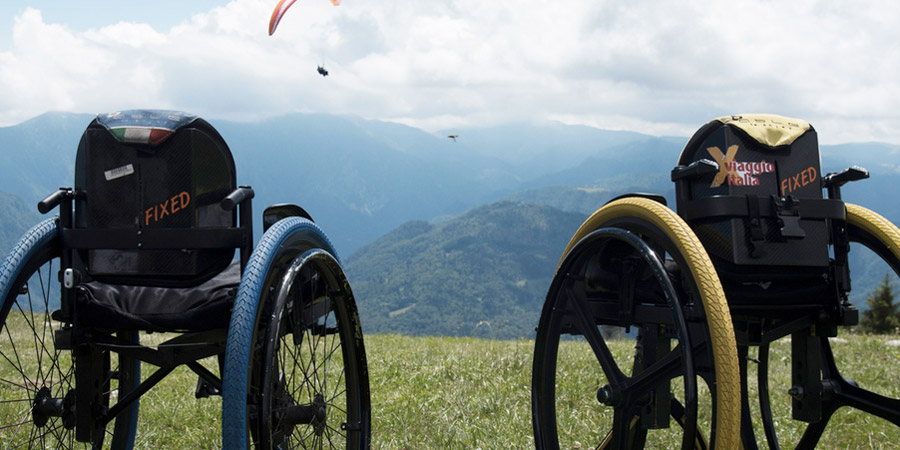 Events
Best friendships sometimes come out of the most difficult moments. That's exactly what happened to Danilo and Luca. They met each other 20 years ago at the Spinale University in Turin after a severe and tragic accident that Danilo and Luca have chosen to consider as a "new beginning".
It is thanks to this friendship that Viaggio in Italia came to light four yers ago, a special journey including different stops throughout the world, a unique trip full of sport (even extreme ones), encounters, challenges and tests…all experienced aboard their wheelchair.
From the 11 to the 18 of May Viaggio Italia is in Ravenna for an intense and exciting stop organized in cooperation with the Italian Touring Club and supported by the Social Policies Departments of the city of Ravenna.  There are a lot of events in program to demonstrate that living (not just surviving) with disabilities is possible:  everybody has the rights to travel, work, practice sport, fall in love with places and people, get to know, meet and help other people…
Starting from Turin on a special Blurent motorhome, Danilo and Luca will arrive to Ravenna on Saturday 12 May, after a brief stop in Cremona whre they will experience a airbike-flight with WeFly Team during the event "Sky without barriers".
An intensive program will follow:
Sunday 13 May: Sailing boat trip with the Marinando Association;
Monday 14 May, 16.00 pm: meeting at the Montecalvone Spinale University where Danilo and Luca will meet patients and physiotherapists to talk about their stories and their journey. The objective is to bring a simple message with real testimonies showing what has already became their slogan: "disability is not an obstacle to live your life fully. It is just a different point of view!".
Tuesday 15 May, 17.00 pm: conference promoted by the Social Services department of the municipality of Ravenna: "Disability in a community that cares", at the venue Artificerie Almagià (via dell'Almaglia 50, Ravenna) where the two guys will tell the 4th edition of the Viaggio Italia adventure.
Wednesday 16 May: Sitting-wakeboard activity with the world champion Emanuele Pagnini Meme.
Thursday 17 May: together with the world champion Lorenzo Major and the Association Ravenna Gravity Fighters, Danilo and Luca will climb the highest Italian rock (32 meters) built on a disused aqueduct tower.
Friday 18 May: trekking paths and motorhome routes in cooperation with Blurent and the Italian Touring Club.
Viaggio Italia is an emotional and exciting journey made possible thanks to the many partners which with their contribution and support believe in the social message of Viaggio Italia. The main sponsor is Fiat Autonomy and the others: Able to enjoy, SKF, Off Carr, Melìa Hotels International and Lufthansa.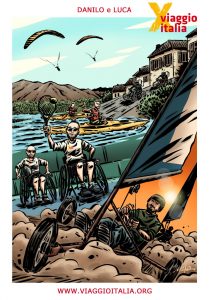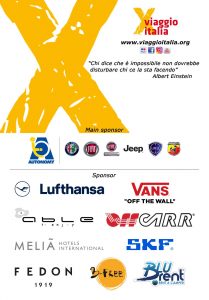 Strong, full of energy and always happy…Danilo and Luca are ready to head to Ravenna !
To know more about Viaggio Italia: https://www.youtube.com/watch?v=OSbMmo5xtEk